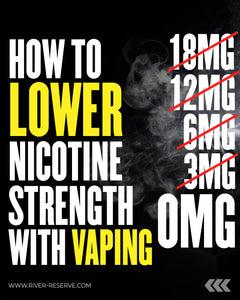 Looking To Lower Your Nicotine Strength?
Vaping is an incredible alternative to traditional smoking for countless reasons.
One main reason smokers choose vaping as their main source of nicotine relief, is the ability to lower nicotine strength over time, which is a very unique quality to vaping.
Here are some tips to lowering your nicotine content!
Mixing Different Strengths
If you have been vaping for a long time, you probably know this one well. 
There's a running joke in the vape community about "Vape Math".
Vape Math is a silly, yet affective form of mixing that creates lower nicotine strength by volume.
An example of this math is: 6 + 12 = 9
How does this work?
As long as the bottle volume the 2 nicotine strengths are being mixed into, has a 50/50 mix of both strengths, the overall nicotine content is split among the two strengths. 
Using this logic, we can create a multitude of nicotine strengths, as well as interesting flavor combinations given the flavors are different.
If you mix Bold Tobacco 12mg, with Bold Tobacco 6mg, you would taste Bold Tobacco, only at a 9mg strength. 
If you continue to do this, at different mix levels, you can have full control over the nicotine strength you vape, and make it much easier to move down in nicotine gradually. 
Here are some more examples of this formula with a 50/50 mix:
18mg + 12mg = 15mg
24mg + 0mg = 12mg
You can even do 3mg + 0mg to get 1.5, which is most peoples last nicotine strength before quitting entirely!
Now that you have this information, you have the ability to have more control over the nicotine content of your vape.
---