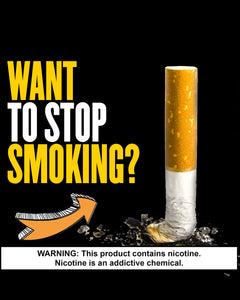 How To Quit Smoking Using Vaping
Quitting smoking is a difficult feat for anyone. The addictive chemicals inside of a cigarette are designed to keep you smoking for as long as possible. River Reserve was founded to help promote vaping as an alternative to traditional cigarettes, and with some help and perseverance, anyone can make the switch.
Here's our first tip: Find your flavor!
It can be difficult to quit without knowing what you will like. When beginning your journey to a smoke-less lifestyle, the best place to start is at your local vape shop. Here, you will be able to explore different flavor profiles, browse your options, and get important information from the employees. We personally recommend either checking out some of your local shops Tobacco flavors to see what may be a similar experience to what you're used to. Not everyone starts with a fruit flavor. If you want some examples, on our website you can check out our Tobacco Collection to read up on some of our flavor profiles. Click HERE to check them out!
Flavors are only half the battle though. You will also need a nice device that fits your lifestyle. At your local shop, they will most likely have a large assortment of devices at hand to check out. We recommend inquiring about a starter kit. I know I know, it may be tempting to go all in with something really nice and expensive, however the draw back to this, is when you're just starting out, high-tech vaping devices can be overwhelming and distract from the main purpose of vaping, which is to quit smoking. This is why the starter kit is perfect. Just fill up and go, which the associate at the local shop can most definitely walk you through.
If you need some tried and true flavors, we at River Reserve Eliquid make over 37 flavors, all of which have high quality as main priority. Tobacco or a darker tone flavor like our 'Great Wall' (Coconut, Bourbon) have had the best success transitioning people from smoking to vaping we've seen.
In conclusion, when starting vaping, we recommend either going to your local store and checking out their juice selection, or looking at our site for some recommended flavors. Then making sure you get a device that fits your lifestyle, whether you want something easy and simple, or more complex. 
Check Out ALL Of Our Flavors HERE!
---